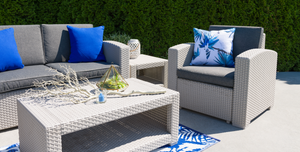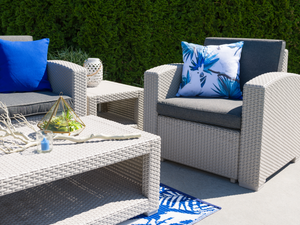 Patio Seating & Sectionals
Patio Seating: A Haven for Outdoor Relaxation
Are you on the hunt for the ultimate seating solution to lounge and bond with loved ones in your outdoor space? Whether it's a laid-back barbecue or a summer bash, nothing beats the coziness of a charming and stylish patio set. With countless designs, materials, and sizes to choose from, finding your dream patio seating has never been simpler.
At CorLiving Furniture, we believe in the value of crafting a welcoming and comfortable outdoor oasis. That's why we offer a vast selection of patio seating options to match any taste and budget. From wicker and metal to wood and resin, our collection of patio sets are crafted to withstand the elements while providing unmatched comfort and aesthetics.
For those with limited outdoor space, the 3 Piece Patio Set is the perfect solution. With room for three people, this set offers comfortable seating without compromising on style. If you're in search of a timeless look, the 4 Piece Wicker Patio Set is a classic choice. Its enchanting wicker design imbues your outdoor area with warmth and charm. Meanwhile, the 5-Piece Patio Wicker Sectional Set is ideal for those with larger outdoor spaces, featuring a roomy sectional sofa, two chairs, and a coffee table to comfortably seat your family and guests.
If you prefer a modern edge, our metal patio sets, like the Metal Conversation Set, 4pc or the Metal Outdoor Conversation Set, 4pc, are the way to go. With sleek and contemporary designs, these sets bring sophistication to any outdoor environment.
For those who crave ample seating options, our L Shaped Outdoor Sectional, 7pc or L Shaped Outdoor Sectional, 8pc, is the answer. These spacious sectionals can comfortably accommodate up to 8 people, making them perfect for large outdoor spaces and gatherings.
For those who want both style and comfort, our Brisbane Weather Resistant Corner Sectional with Ottoman 5pc and Brisbane Weather Resistant Corner Sectional with Oversized Ottoman 6pc are unbeatable. These sectionals feature a weather-resistant resin wicker design that's not only stylish but durable for year-round use. The Brisbane Weather Resistant Curved Sectional with Oval Coffee Table 5pc and the Brisbane Weather Resistant Loveseat with 2 Chairs and Square Coffee Table 5pc are also fantastic choices, offering a cozy and inviting seating option.
For a more relaxed seating option, our Outdoor Chairs with Ottoman, 4pc Patio Set and Outdoor Conversation Set, 4pc are perfect. With their practical size and comfortable design, these sets are ideal for casual outdoor gatherings with friends and family.
In conclusion, CorLiving Furniture offers a wide array of patio seating options to match any style and budget. Whether you're in search of a classic and cozy wicker set or a modern and sophisticated metal set, we have you covered. So don't wait any longer, start shopping now and bring ultimate outdoor comfort to your home.