25 Ways to Make Your Living Room Cozy - Tips & Tricks
Welcome to our gallery featuring 25 tips on how you can make your living room cozy!
Whether your living room is large or small, you'll always want it to feel cozy and comfortable.
We've selected twenty five of our favorite ways to make any size living room cozy, comfortable, and welcoming and have curated them with some truly gorgeous living room designs.
From cavernous great rooms to more modestly sized living rooms with an intimate design, we have a tip or trick for every size and style.
You're sure to find a design that suits your style and your needs. Remember, the most important part of your living room is function, and where that function meshes with aesthetics is design!
The tips and tricks you'll find within this gallery are designed to help you deal with clutter, empty spaces, adding warm tones to a neutral color pallet, and brightening up a dark room.
As you'll see, there are tons of great ways to add intimacy and coziness to your living room without undertaking a massive renovation project.
Add pops of color, shelving, a fresh coat of paint, or even houseplants to ensure that your guests find your living room as inviting as you do.
We hope you'll be inspired by this gallery to undertake a small home improvement project.
Enjoy these great tips!
1. Strategically Place Tall Potted Plants
In a tall room, adding tall or voluminous plants can help take up empty corners, spaces, or fill vertical space. Just be sure that any plant you add to your home gets enough light to survive. Dead plants do not make a living room – or any room – cozy!
This living room features medium-height plants to fill space between the seating arrangement and the built-ins on either side of the fireplace. This room's enormous windows provide plenty of light.
This more minimalist space also uses a potted plant to take up unused space. The great thing about plants is that they add life and color to a room without adding clutter.
See more of this home here. Designed by Homepolish.
2. Paint Your Walls Two-Toned
In a large room, painting until several inches from the ceiling can make your room feel a bit smaller and cozier, in the same way that painting a few inches onto your ceiling can make the room feel much larger.
Or add an accent wall in a warm tone to add a cozy feeling. Adding a dusky red to the wall behind a fireplace doubles the warmth of this room.
3. Trade Coffee Tables for Oversized Ottomans
A soft, plush ottoman is a perfect way to make your living room feel cozy and warm. They're great to rest your feet on, and with the addition of a tray, can serve perfectly as a coffee table as well. Ottomans are also available with storage.
An elegant button-tufted rectangular ottoman adds texture and warmth to this lovely living room in a way that a wooden coffee table wouldn't.
See more of this home here. Designed by Clean Design.
If you choose an ottoman in a warm color, your ottoman will brighten the room in two different ways.
See more of this home here. Designed by Jerry Jacobs Design.
4. Use Console Tables to Define Separate Spaces
Console tables are an incredibly versatile piece of furniture. Whether pushed up against a wall or against a sofa, these can act as easy barriers to separate different areas of an open-concept living area or to separate seating arrangements.
A simple wooden console table provides storage and creates a barrier between the seating area and the open space around it. Moving furniture away from the walls creates a much more intimate seating area.
See more of this home here. Designed by Garrison Hullinger Interior Design.
5. Fill A Large Living Room With A Large Sectional
A cavernous living room needs furniture to match. A lengthy sectional sofa is a cozy, comfortable way to make a large living room feel more intimate, warm, and inviting.
This metallic blue sofa might be in a cool color, but the sheer size makes it perfect for filling this enormous space. Note that the furniture is pushed away from the walls, and plants are used to fill open space between the back of the sofa and the wall.
Source: Zillow DigsTM
6. Natural Light
The amount of natural light filtering into your living room can't be understated when it comes to how inviting your living room is. Dark living rooms are uninviting and can feel depressing and small. A cozy living room is not a living room that feels small. If you can, keep your windows as uncovered as possible to let natural light in.
Seamless sliding doors in addition to a set of windows at the top of the ceiling ensure that this living room gets plenty of light.
See more of this home here. Designed by Wnuk Spurlock.
7. Create an Intimate Space Just for Two
If your large living room just doesn't seem to host many guests, you might decide to make it feel cozier by adding more intimate seating arrangements. At parties, guests tend to break down into smaller groups.
This living room features three intimate spaces that are perfect for groups of two, including a set of wing-back chairs, a love seat, and a chaise with a back on either side.
Source: Zillow DigsTM
8. Add a Few Throw Blankets
A throw blanket here and there adds texture, color, and yes, warmth. Having a blanket nearby instantly makes your guests feel more at home. And who doesn't love having a blanket on hand to curl up with when it gets a little chilly?
These blankets serve a double purpose: they add a bright pop of color, while also making guests feel more at home.
See more of this home here. Designed by Garrison Hullinger Interior Design.
While this thick, cozy blanket doesn't add color, it does add a unique texture to the design.
See more of this home here. Designed by Webb & Brown Neaves.
9. Create Seating Groups
In lengthy living rooms, create more intimate seating groups with chairs and love seats. You won't notice how large the room is if you aren't looking at all the empty seating!
This enormous living room is separated by a single wide archway, which makes it easy to separate the rooms into two distinct seating areas.
See more of this home here. Designed by Roselind Wilson Design.
This room doesn't have the benefit of a separating arch to distinguish between the two seating areas, but the different arrangements and space between the two areas makes it clear that they are separate areas.
Source: Zillow DigsTM
10. Add Bookshelves and Books
There's something comforting about books. Bookshelves take up a large amount of wall space, so they're easy to add to a living room where the furniture is pushed away from the walls.
The built-in bookshelves are filled to the brim with the owner's library. They also found a way to attach their television to the bookshelves.
See more of this home here. Designed by Pohl Rosa Pohl.
For owners with a smaller collection, arranging like items together with knick-knacks and accent pieces is a great way to fill the vertical space. This design also attaches a large piece of artwork to the empty shelves just above the sofa.
See more of this home here. Designed by Wick Designs. Photography by Lisa Romerein.
11. Add Personal or Family Photos
There's nothing like adding family photos to make your living room feel inviting and warm. Adding these pictures make your living room feel more like it's  yours, which is exactly why you're told to remove family photos when you are staging your home to sell.
The built-in shelves on either side of the fireplace are filled with books and family photos, with a photograph above the mantle as well.
See more of this home here. Designed by Garrison Hullinger Interior Design.
12. Utilize Floor and Table Lamps
For the evening hours, there's nothing better than a lamp to add an inviting warm glow to your living room space. When it's time to close the shades so that your neighbors can't see into your home, lamps keep your space well-lit.
A combination of floor and table lamps ensures that each seating area has plenty of light for reading or conversing.
13. Expand Your Curtains Floor to Ceiling
Floor to ceiling curtains are an excellent way to add warm colors to your design, and also lengthen a small room, making it feel larger.
Multi-colored curtains add warmth to the light color pallet, and lengthen the walls.
14. Personalize with Your Favorite Accents and Knick-Knacks
Pick your favorite pieces from your collection and arrange them on your shelves to add your personality and warmth to the living room. A living room that feels like yours is a cozy living room.
Exotic sculptures and artwork are displayed on the mantle and shelves surrounding this fireplace and entertainment center.
15. Warm Up with an Area Rug
Tile or wooden floors are popular in contemporary and modern design, but you can't beat an area rug to warm up a cool floor.
If you want to add texture, go for a plusher rug. For color or visual interest, go with a patterned rug.
16. Add Warmer Tones to Your Color Pallet
Add colors with a warmer undertone to your living room to make your living room feel more inviting.
While taupe is still a cooler color, it brings out the warmth in the brick fireplace and in the wood floor, warming the room.
See more of this home here. Designed by Linda McDougald Design.
17. Layer with Comfy, Bright Pillows
To add color and warmth to a leather sofa, add brightly colored or patterned pillows–and add a lot of them! Make sure they're super plush as well.
This smaller living room seems a little small, and the bright pillows layered on the sofa add much needed color.
See more of this home here. Designed by ARS-IDEA Interior and Architectural Design.
A wide array of pillows add a great deal of visual interest to this simple, neutral sofa and chaise.
18. Add Something Quirky and Unexpected
Use odd pieces of furniture as accents to add personality to your living room. You won't believe how welcoming they'll make your living room feel!
A few unique pieces, including a hunting trophy, cuckoo clock, and an old gas pump, are unexpected additions to this rustic-contemporary living room.
19. Add Bold Artwork
Don't be afraid to add art to your design, or even to let it take over! A single sculpture or painting can become the focal piece of a warm, inviting living room.
An enormous print takes up almost an entire wall, drawing attention from the solid charcoal gray sectional sofa. Light greens add a pop of color.
See more of this home here. Designed by Turnbull Griffin Haesloop Architects.
20. Layer Materials and Patterns
Choose complementary patterns and materials to create a visually interesting living room that keeps your eye moving, always discovering something new to focus on.
Brick is next to a rich gray wall with a subtle painted stencil. Small, low profile pieces of furniture are layered with patterned pillows.
See more of this home here. Designed by +Modern Design.
21. Stunning Pops of Accent Colors
An incredible pop of color can make a tall living room feel much more intimate, drawing the eye down and keeping it there with bold color.
Bright sunshine yellow and berry purple pillows accent the enormous beige sectional sofa, along with a matching textured area rug.
See more of this home here. Designed by McLeod Bovell.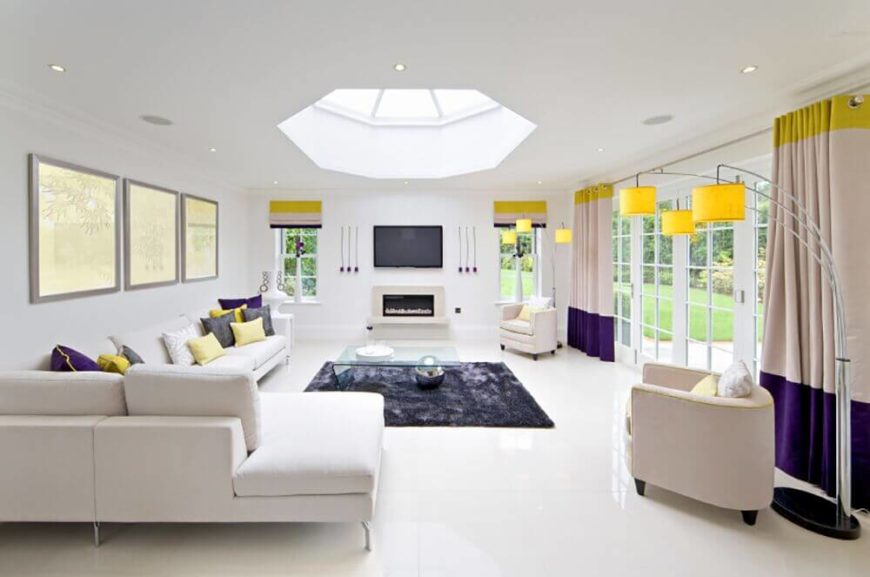 The accent colors are used a little more subtly in this living room, which features bright yellow at the top of the room and royal purple near the floor.
22. Make Use of Wall Space
A blank wall is a wasted opportunity. Group art, photographs, or other items to display on an accent wall.
This light lavender accent wall is filled with an array of prints and artwork that take up nearly the whole wall.
See more of this home here. Designed by Ippolito Fleitz Group.
23. Decorate with Flowers
Floral arrangements are always a great way to add warmth and life to a living room, but like houseplants, you'll need to make sure they get plenty of sunlight and love.
Floral arrangements bring richer, more lively colors to this soft beige beach home's living room.
See more of this home here. Designed by Emily Gilbert.
24. Don't Leave Your Mantle Bare
Decorate your mantle! The key is to add complementary, interesting display pieces so that your living room feels homey and inviting, rather than open and empty.
A few quaint details on the mantle reflect the home's design scheme and the owner's personality.
25. Group Like Items Together
When adding accents to a room, keep items with a similar shape or theme together to keep your living room feeling balanced and interesting.
There's a lot going on in this living room, but each area has items grouped together that match in some way, color, shape, material, or size.
See more of this home here. Designed by Garrison Hullinger Interior Design.
Blog courtesy of Home Stratosphere. Source: https://www.homestratosphere.com/cozy-living-room-tips/
---